Recreational boats in the Northern Territory (NT) do not need registration. 
You are also not required to hold a licence to drive them.
But you must follow:
minimum requirements for safety equipment, including any exemptions that are applicable
marine rules and regulations.
Minimum requirements for safety equipment
Check your safety equipment and ensure that it is:
in good condition
of regulation standard
available for immediate use.
Read and carry on board the minimum safety equipment requirements table.
Marine safety rules
You will find the below topics on the marine safety guide. 
Recreational boat safety quiz
Test your knowledge about boating safety in the NT by taking the boating knowledge quiz.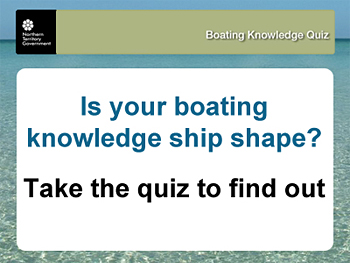 More Information contact
Marine Safety NT
Department of Infrastructure, Planning and Logistics